【Participation plan】 Course of aged fish and tempura courses
Course details
【Participation plan】 Course of aged fish and tempura courses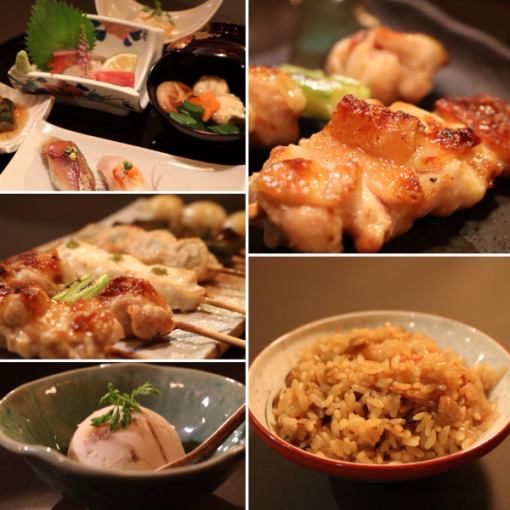 2500 Yen
All you can drink for 2 hours at + 1500 yen.
It is a small group sitting plan available for up to 10 people.
We are proud to offer "Yakitori" our pride and attention, "Aged Fish" a party to enjoy!
First of all, please enjoy the magnificent gorgeous masterpiece!
Course menu
【First issue】 Serving three seasonal alcoholic beverages
【Risk】 Mugi fish's handful sushi 2 tsu
【Bowl Object】 Daily soup of seasonal soup
【Orientation】 Five sashimi of aged fish
ー ー ー ー ー ー ー ー so far will be offered at the menu --- ー ー ー ー ー ー ー ー ー ー ー ー ー ー ー ー ー ー ー ー ー ー ー ー ー ー ー ー ー
【Skewer】 Seven types of autumn leaves
※ The sticky skewers will serve you baked one by one!
【Meal】 Kashie rice and chicken soup
There is a case of change in stocking / purchase situation.
【Sweet】 Daily dessert
☆ Skewer Menu List ☆
※ It will be offered automatically by daily change.Can not be specified.
Bamboo shoots, rusty roasted, citrus grill, rustling, sand dust, liver, pine, heron, Bonjiri, Misaki, seseli,
Chicken toro, wings, chicken breasts, cartilage, tsukune, neonji, lantern, sorreres, nuts, shiitake mushrooms, fried chicken,
Vegetables
※ The meal may be changed to Soborodon and so on.
* As long as there is stock, OK on that day !!
※ Take your meal in about 20 minutes for inclusion.
The day before the reservation is provided, it is smooth.
2017/09/12 update